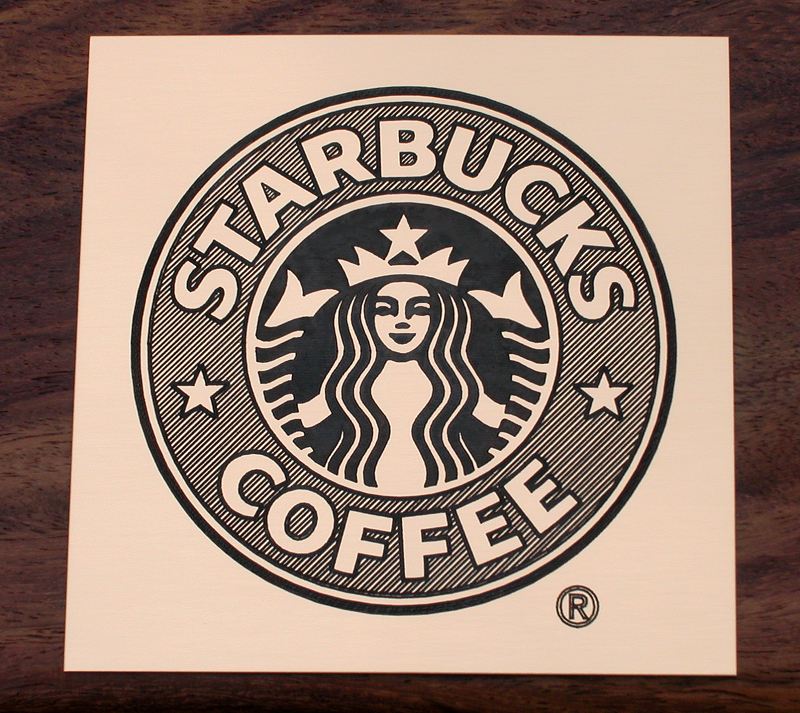 Starbucks Logo Example

We can engrave black and white 2-color or limited solid color artwork with no gradients (shading). We can also crosshatch the "black" areas so solid areas stand out and are not simply outlined.
There is a $25 one-time artwork fee, and an extra fee of $10 per additional color separation. We will keep your artwork on file for at least two years so if you reorder (even engraving your artwork on a different item) there will not be another artwork charge. The engraving cost would depend on the quantity and complexity of the artwork. We can usually engrave and ship in the same business day. Artwork can be sent as .EPS files with embedded fonts or as 2 - 4 color .GIF files at least 1100 pixels wide.
There are three basic methods to engrave a logo. The simplest and least expensive is to outline the solid areas. Lettering and solid colors would be outlined and hollow. When outlining we recommend black oxidizing the brass plaque to make the image stand out. See the lower left Starbucks logo titled "Outlined Logo" in the images below. Note how it looks very hollow and empty.
Next, we could use black and white artwork and outline as explained above, then fine-line crosshatch fill solid areas. In this way, Starbucks Coffee and the mermaid would be polished brass with a reversed engraved background. It looks better NOT to black oxidize the ultra-fine-line crosshatch fill as the crosshatching tends to "light up" when viewed from different angles. This crosshatch fill method is suggested when there are large solid areas.
Lastly, since the Starbucks Coffee Logo is 3-color (black, white, and green), we can separate the colors and crosshatch the black around the mermaid in one density and direction, and crosshatch the green Starbucks Coffee in a lower density different direction. Typically, the black area would be very fine horizontal crosshatching, and the green would have crosshatching spaced slightly further apart at a 45 degree angle. This style of engraving looks the most professional and dramatic.
| | |
| --- | --- |
| Original Starbucks 3-Color Artwork | Reduced to 2-Colors |
| Black Separation | Crosshatched Black Separation |
| Green Separation | Crosshatched Green Separation |
| Outlined Logo | Black, Green, and Outlined Layers |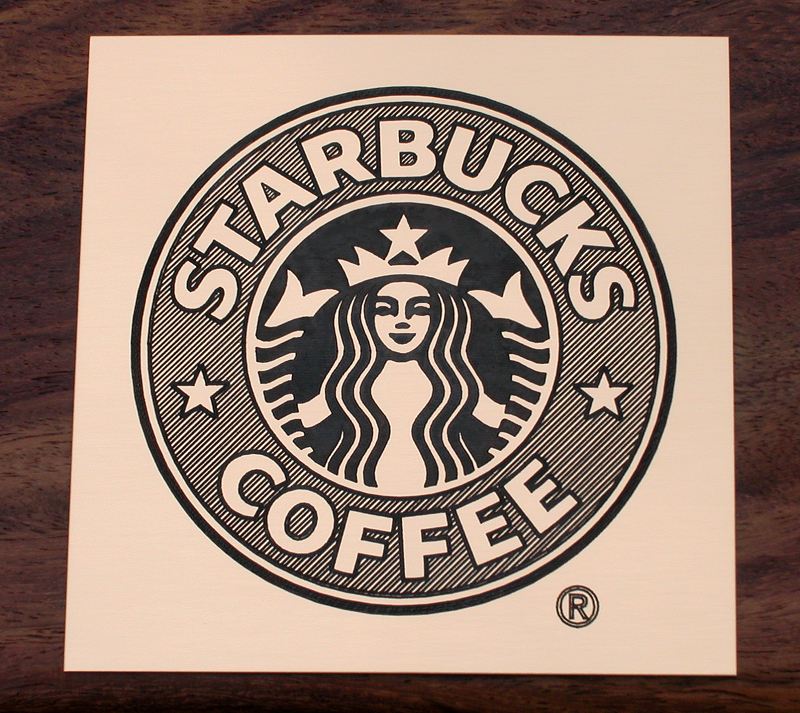 Finished Black Oxidized Starbucks Logo on a Brass Plaque

As a typical example of pricing, 25 brass plaques 2.5 inch square with the Starbucks logo, black oxidized outlined plaques (no crosshatching, not recommended) would be $4.50 each. Two-color (black and white) Crosshatched plaques would be $5.75 each, and the 2-density crosshatched plaques shown would be $5.95 each. In quantities of 100 pcs, the plaques would be 30 percent less. We can provide paper or brass plaque proofs.