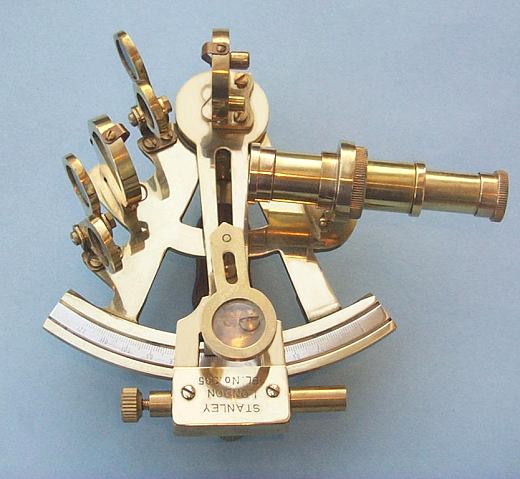 Click on any of the thumbnail images to view a larger image.
| | | |
| --- | --- | --- |
| Right side view | Left side view | Detail of engraving |
| | | |
| --- | --- | --- |
| Sextant in leather case | Leather case | Detail of embossing |
Antique Patina:
Antique Finish Sextant
Front view

Right side view

Left side view
| | | |
| --- | --- | --- |
| Detail of engraving | Sextant in case | Distressed leather case |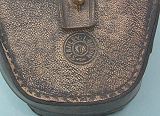 Detail of embossing
Stanley London Premium Quality
4-inch Serialized Brass Sextant
with Leather Case
Available in Polished Brass or Antique Patina
Regularly $135
30% Off Sale: $94.50

This is a beautifully made reproduction of a 4-inch radius British Lifeboat Sextant. Each sextant is expertly crafted from solid brass and marked with a unique serial number. This model is available with either a beautiful polished brass finish or an antique patina. The sextant has an accurately divided German Silver scale, and a slow motion control for making small adjustments to the index arm. A powerful magnifier can be swung into position to assist in reading the vernier scale. The telescope has polished glass lenses and produces a sharp magnified image. The mirror mounts are adjustable, and the index mirror has three recessed adjustments. The sextant features four swing arm tinted glass filters. On the back of the sextant is a turned hardwood handle. A small brass plaque with nine total words on a maximum of three lines can be custom engraved and mounted on the sextant handle. The sextant measures 5 inches (12.7 cm) tall, 4.25 inches (10.8 cm) wide, 2 5/8 inches (6.7 cm) deep, and weighs over a pound (454 grams).
The sextant comes complete with a thick 100 percent leather handmade case embossed "Stanley London." The antique patina model comes with a distressed leather case, so the sextant and case to look like a 100-year old antique.
While these sextants are fully functional with properly aligned optics, they have not been calibrated and are not intended for navigation. They are perfect for the collector or nautical enthusiast interested in learning celestial navigation. We also offer a smaller version and a larger version of this sextant.
Either the polished or antique version of the 4-inch serialized brass sextant with leather case usually sell for $135, but each are on sale for only $94.50.