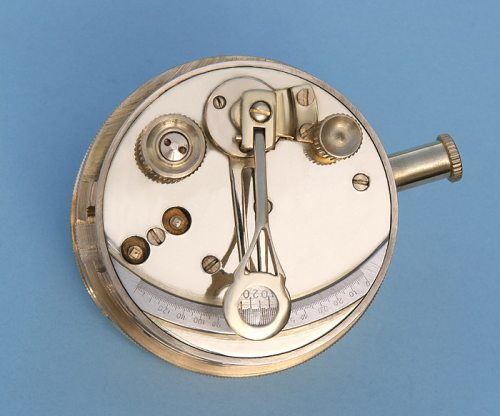 Click on any of the thumbnail images to view a larger image.
Sextant with
Alignment Tool

Sextant with
Filter Extended

Detail of
Telescope
Detail of
Filter

Top View of
Sextant and Lid

Detail of Internal
Mechanism
Sextant with
Cover On

Detail of Engraved
Serial Number

Box Sextant with
Antique Finish
Telescope and
Filter Extended

Detail of Filter
and Mirror

Box Sextant
and Lid
Box Sextant with
Serial Number

Box Sextant in
Hardwood Box

Hardwood Box for
Box Sextant
Stanley London® Serialized
Miniature Box Sextant $88
Polished or Antique Finish
Optional Hardwood Box $15

This is a solid brass reproduction of the famous Box Sextant, invented in 1803 by instrument maker William Jones. Although mainly used for terrestrial observation, it was also suitable for small ships. French sailor Jean Lancombe used a Box Sextant for his single-handed Atlantic crossing.
The Box Sextant measures 3 inches (7.7 cm) in diameter and weighs just over one pound. Each sextant is stamped with a unique serial number and "Stanley London." The Box Sextant has a brass cover that unthreads and rethreads onto the opposite side where it functions as a holder. The sextant's thickness is only 1 5/8 inches (4 cm) with the cover installed. When the cover is removed, the telescope can be extended and the larger knurled knob can be adjusted to align the images. A magnifier assists in reading the inclination angle from a precision German Silver vernier scale. The smaller knurled knob unscrews for use as a tool to adjust the horizon mirror. The sextant also includes a removable moon filter. The Box Sextant is meticulously crafted and is shipped with the optics properly aligned. This beautiful reproduction of the Box Sextant has a single green moon filter on a swing-arm mount, and is fully functional, although not intended for navigation.
A handcrafted brass accented hardwood box is available to store and display the Box Sextant. Custom brass plaques are available for the hardwood box and custom engraving is available on the lid of the sextant.
The Miniature Box Sextant is available in both polished and antique patina finishes, and either version sells for only $88. The hardwood box is available for only $15.