Polished Brass
$465

Leather Sheathed
$495
---
Click on any of the thumbnail images to view a larger image.
30-inch Polished
Brass Telescope

Right Side View
of Telescope

Left Side View
of Telescope
View of Objective
End with Cap on

View of Objective
Lens with Cap off

View from
Eyepiece
Detail of
Tripod Mount

Detail of Engraving

Detail of
Tripod
Tripod Support
Plate

Leather Sheathed
30-inch Telescope

Leather Sheathed Telescope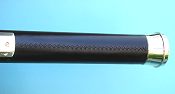 Detail of Leather Stitching
(Bottom of Telescope)
Stanley London® 30-inch Brass Telescopes
on Solid Hardwood Tripods
Polished Brass $465
Leather Sheathed $495
These beautiful solid brass refractor telescopes are mounted on solid brass and hardwood tripods. The telescopes use precision ground glass optics to produce a bright and clear 24-power non-inverted image.
We offer two types of the antique reproduction Stanley London® 30-inch refractor telescopes: A polished brass version and a model with the main tube wrapped in a hand sewn high quality 100 percent leather sheath. The dark brown leather sheath adds distinctive styling and eliminates fingerprints or tarnish on the main tube. Either telescope is focused by rotating a large adjusting ring near the eyepiece. The telescopes are 29 inches (73.6 cm) long with a main tube 2 1/4 inches (5.7 cm) in diameter, and have an objective lens diameter of 42 mm. A removable 2 3/4 inch (7.0 cm) diameter brass cap protects the objective lens.
The Stanley London® telescopes are mounted on sturdy two-section telescoping rich cherry-stained solid hardwood tripods with heavy brass castings. The height of the telescopes is adjustable from a minimum height of 37 inches (94 cm) to a maximum height of 59 inches (150 cm) tall. Either telescope is easily removed from the tripod, and the tripod collapses efficiently for compact storage. The telescope can be custom engraved near the eyepiece with one short line of text, such as a name and a date. The main tube of the polished brass telescope can be engraved with artwork, a logo, or one to four longer lines of text. When engraving the polished model, we suggest engraving full names rather than monograms or initials due to the large width of the engravable area. The solid brass strut on the tripod can be engraved with up to six lines of text.
Either model telescope with tripod weighs 15 1/4 pounds (6.9 kg). These beautiful brass telescopes are perfect for your office or home, near a view window, for viewing the water, landscape, the Moon and Jupiter.
The Stanley London 30-inch solid brass telescope with hardwood tripod sells for $465 and the Leather Sheathed version is $495.
We also have a larger 44-inch Brass Harbormaster Telescope on Teak Tripod.