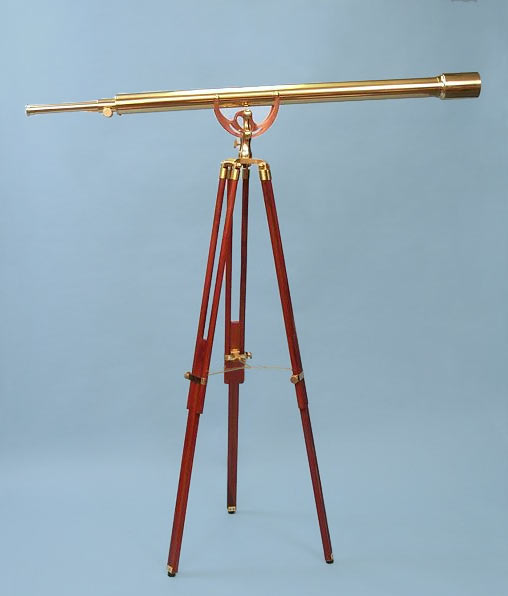 Click on any of the thumbnail images to view a larger image.
| | |
| --- | --- |
| Right View of Telescope | Left View of Telescope |
Copper Arc Mount

View of Objective
End of Telescope

View of Large
Eyepiece Lens
Rack and
Pinion Focuser

Top View
of Focuser

Stanley London
Marking near Eyepiece
Detail of Tripod
Leg Support

Rubber Feet on
Tripod Leg

View Through
Objective Lens
Showing Large
Exit Pupil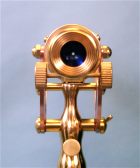 View Through
Eyepiece
Stanley London® Solid Brass
55-inch Harbormaster Telescope
on Mahogany Tripod
$899
Our finest Stanley London® telescope is this massive and beautiful solid brass refractor harbormaster telescope mounted on a mahogany tripod. The telescope uses highest quality precision multi-coated glass optics to produce the brightest and sharpest non-inverted image of any of our telescopes. The 32-power optical design is considered the perfect magnification for harbormaster telescopes and is the best compromise between power and field of view. The telescope has a clear coated finish so it never needs polishing and will not show fingerprints. The telescope's large eyepiece has ample eye relief so even eyeglass wearers can achieve comfortable viewing. Focusing is accomplished using the precision rack and pinion focuser near the eyepiece. The telescope is 55 inches (1.40 meters) to 53 inches (1.35 meters) long depending on focus. The feet of the tripod have molded rubber so the telescope will not slip or scratch your fine flooring. The telescope is easily removed from the adjustable tripod, which measures from 30.8 inches (78.2 cm) to 54.3 inches (138 cm) tall, and the tripod collapses efficiently for compact storage. The height of the telescope and tripod is 60 inches (1.53 meters) tall and the telescope with tripod weighs 23 pounds (10.5 kg). The integrated sun shade is 3 1/4 inches (8.3 cm) in diameter, and the objective lens diameter is 60 mm. This heavy solid brass telescope is perfect for your office, rich nautical decor near a view window, or for coastal or celestial observations.
The main tube of the telescope can be custom engraved with artwork, a logo, or one to four longer lines of text. Due to the large width of the engravable area, we suggest engraving full names rather than monograms or initials.
The Stanley London clear-coated 55 inch 32x60 harbormaster telescope on mahogany tripod sells for $899.
We also have a smaller Premium Quality 44-inch Clear Coated Brass Telescope.