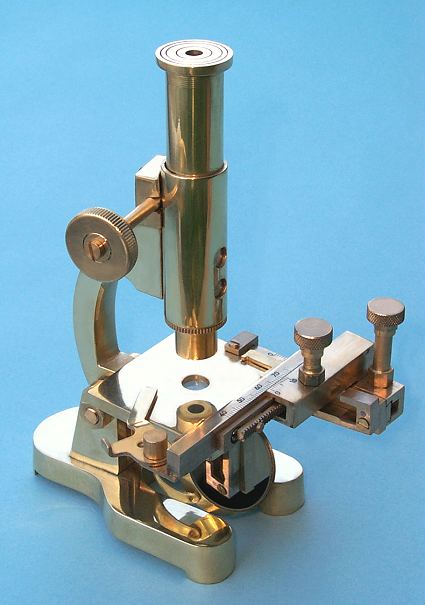 Click on any of the thumbnail images to view a larger image.
Tilted Back

Rack and
Pinion Focuser

X-Y Translation
Stage
Detail of
Microscope

Top View
Solid Brass Microscope with X-Y Translation Stage $140
This beautiful solid brass microscope has a precision X-Y translation stage that allows accurate 2-axis movement of a specimen slide. The translation stage has two brass rack and pinion controls and vernier scales with a resolution of 0.1 mm. The microscope is fully functional and produces a clear magnified 40-power image. A rack and pinion focusing adjustment allows for easy focusing and a spring-loaded slide clip secures the specimen slide. The microscope is 7 1/2 inches (19 cm) tall and the base is 2 3/4 inches (7.0 cm) wide and 4 inches (10.2 cm) deep. There is an adjustable 1 1/2 inch (3.8 cm) diameter two-sided mirror for rear illumination. The microscope is solidly built and weighs 2 pounds, 11 ounces (1.22 kg). We also offer a similar microscope without the X-Y translation stage.
The Solid Brass Microscope with X-Y Translation Stage is offered at only $140.