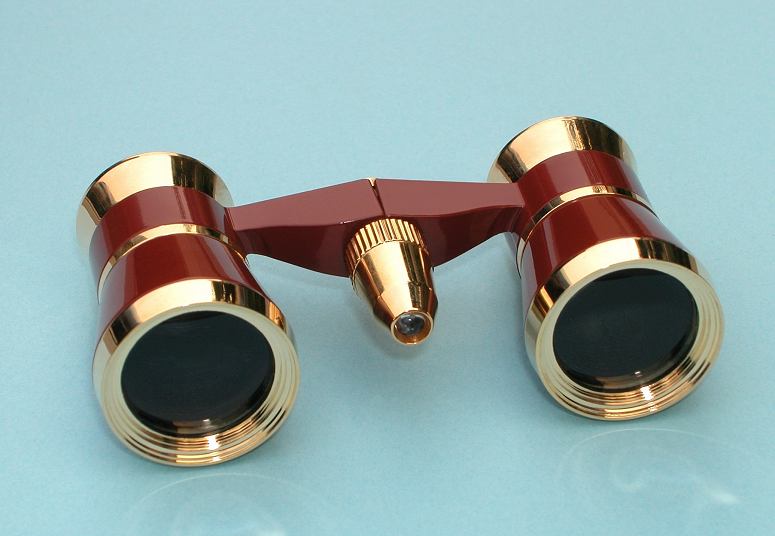 Click on any of the thumbnail images to view a larger image.
Eyepiece View of
Opera Glasses

Detail of LED
Light Push Button

Built-in LED
Reading Light
Red LED Reading/
Program Light

Opera Glasses with
Red Velvet Gift Box

Opera Glasses in Satin
Lined Hinged Gift Box
Stanley London® Opera Glasses
with Built-in LED Reading Light
$45
These beautiful precision-crafted Stanley London® Opera Glasses produce a bright and crystal clear magnified image making it seem like you are three times closer to the action. This unique opera glass design incorporates a built-in reading light. By simply pressing a button a bright red Light Emitting Diode (LED) illuminates your program without disturbing those around you and the red light will not ruin your night vision. The 3x25 mm design has larger 25 mm objective lenses that gather more light than other opera glass designs, and the precision ground multicoated optics produce a sharp image. The generous eye relief and large 12 mm eyepiece lenses allow eyeglass wearers to use their normal prescription eyeglasses so you won't have to fumble removing and replacing your glasses. A quick twist adjusts the eye-to-eye distance for comfortable viewing. The advanced focus-free optical design means the image will always be clear and the opera glasses can be shared with others without having to manually re-focus.
The Stanley London Opera Glasses measure less than 2 inches (4.9 cm) long, 3 7/8 inches (9.8 cm) wide, and weigh only 4 ounces (113 grams). The opera glasses have an exquisite brick red body with bright gold trim and come complete with an elegant velvet and satin hinged gift box and batteries for the LED light.
The Stanley London Opera Glasses with LED light and gift box sells for only $45.00. We also offer Small Chrome Binoculars, Small Solid Brass Binoculars and larger Leather Sheathed Brass Binoculars with a Handmade Leather Case.