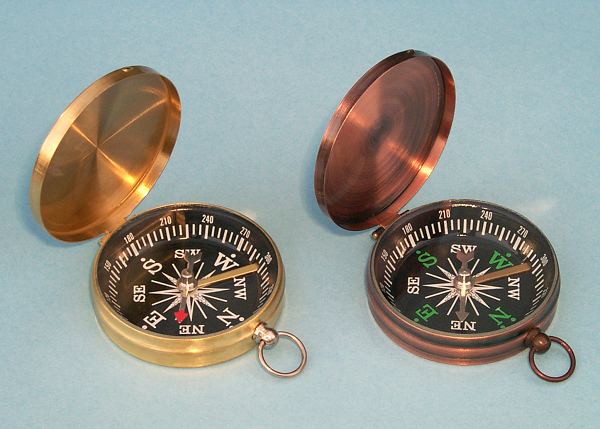 Click on any of the thumbnail images to view a larger image.
Top View of
Both Compasses

Brass-Colored
Compass

Detail of
Compass Face
Brass-Colored
Compass with
Lid Closed

Copper-Colored
Compass with
Lid Open

Copper-Colored
Compass with
Lid Open
Compass with
Lid Closed

Optional Red
Velvet Pouch

Optional Black
Velvet Pouch
Stanley London Lightweight
Brass Pocket Compasses
$6 each


These inexpensive Lightweight Brass Pocket Compasses are available with either a brass or an antique copper-colored finish. The compasses are the size of a standard pocket watch, measuring slightly over 1 3/4 inches (4.5 cm) in diameter, less than 1/2 inch (1.3 cm) thick, and weighing only 9/10 of an ounce (25.5 grams). The case is stamped from solid brass. The compass needle is accurate, quick and responsive. On the side of the compass is a small lever that operates a needle lift mechanism to protect the compass bearing while transporting the compass. The back of the compass is blank and either or both sides can be engraved with your personalized inscription. Note that our heavier and better quality compasses such as the solid brass Medium Pocket Compass and Scouting Pocket Compass yield better results with engraving.
Either Lightweight Brass Pocket Compass sells for only $6. An optional red or black velvet draw string bag is available for an additional $1.50. For bulk orders of 100 pieces or more, please visit our bulk order page with built-in product and engraving discounts.