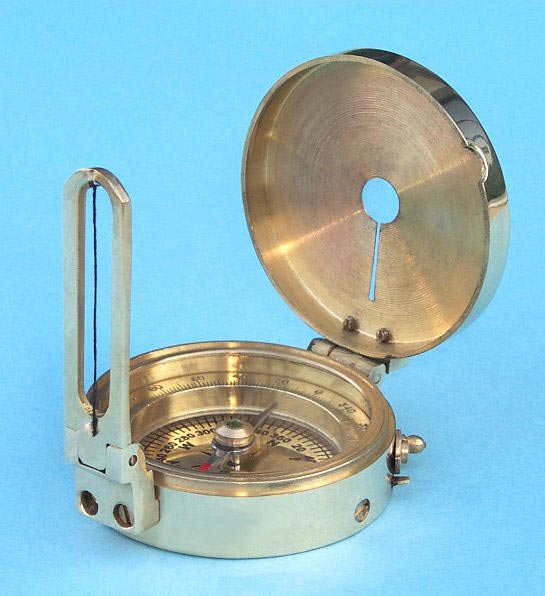 Click on any of the thumbnail images to view a larger image.
Compass Rose

Compass with
Case Closed

Bottom of Compass
Optional Hardwood Case
w/ Inlaid Compass Rose

Small Plain Hardwood
Storage Case Closed

Small Plain Hardwood
Storage Case Open
Optional Leather Case
Front View

Optional Leather Case
Back View
Surveyor's Pocket Compass $29

This Stanley London® solid brass reproduction of a Surveyor's Pocket Compass is the perfect pocket-sized sighting compass. The compact compass measures only 2 inches (5.1 cm) in diameter, 7/8 inches (2.2 cm) thick, and weighs 5.3 ounces (150 grams). The front hinged sight has a replaceable thread, and the lid lifts to become the rear sight. The center of the lid contains a glass magnifier for lensatic back-sighting. On the side of the compass is a needle lift mechanism to protect the compass bearing when transporting the compass. This compass is crafted from solid brass, polished to a beautiful shine, and engraved Stanley London around the perimeter of the compass.
We offer two optional hardwood storage boxes for displaying and protecting your compass. Your personalized inscription can be engraved on a brass plaque for the inside lid of either optional small hardwood case. The Small Hardwood Box with Inlaid Compass Rose is available for an additional $30.95. The Small Plain Hardwood Storage Case sells for $12.95. An optional dark leather case is available for $10.00. Each compass rose is unique and will have slight variations since they will be inlaid using similar hand tools to those used 200 years ago.
The Surveyor's Pocket Compass sells for only $29.