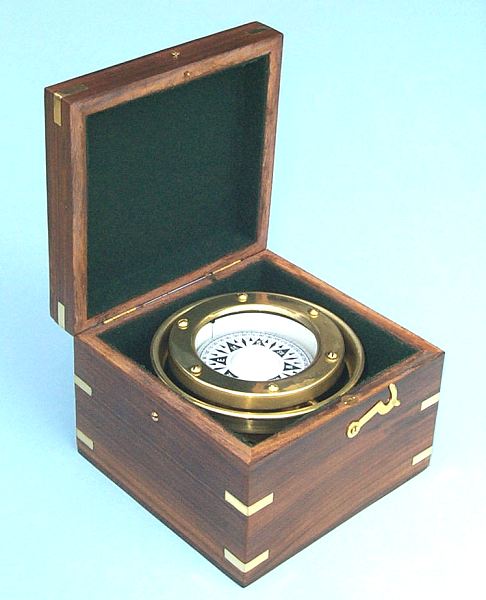 ---
R.M.S. Titanic, White Star Line
Limited Release Gimbaled Boxed Compass
$149

The Boxed Compass is a reproduction of an air-damped gimbaled compass in a beautiful handmade hardwood case. The 4-inch (10.2 cm) compass is fully gimbaled with a solid brass housing and gimbal set. The compass card is 2 3/4 inches (7 cm) in diameter, and the case measures 6 inches (15.2 cm) square and 4 5/8 inches (11.7 cm) tall. The front of the box has a brass clasp and the box's corners are inlaid with solid brass splines. The interior of the box is lined with dark green felt. The brass plaque is engraved "RMS Titanic 1912" with the White Star Line Logo. Custom brass plaques are also available for the inside lid. The boxed compass is a beautiful addition to a nautical collection or executive's desk.
This gimbaled compass is fully functional but not calibrated for navigation.
The reproduction Titanic White Star Line Gimbaled Boxed Compass sells for only $149.
---
Click on any of the thumbnail images to view a larger image.
Gimbaled Brass Compass

Detail of
Gimbaled Compass

Inlaid Corner
Brass Splines
Top View of
Boxed Compass

White Star Line
Brass Plaque
Order the R.M.S. Titanic, White Star Line Limited Release Reproduction Gimbaled Brass Compass in Hardwood Case