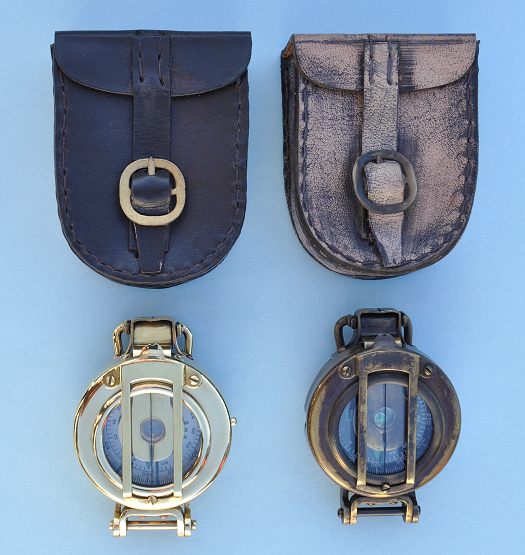 Click on any of the thumbnail images to view a larger image.
Polished Brass
Engineering Lensatic
Compass

Compass Dial

Engineering Lensatic
Case Closed
Back of Polished
Lensatic Compass

Luminous Dial
in Darkness

Engineering Lensatic
with Leather Case
Engineering Lensatic
in Leather Case

Embossing on
Leather Case

Belt Loop on
Leather Case
Lensatic Compass
with Antique Patina

Compass Dial

Back of Antique
Patina Compass
Engineering Lensatic
with Leather Case

Large Plain Harwood
Storage Case Closed

Large Plain Harwood
Storage Case Open
| | |
| --- | --- |
| Top view of case | Opened hardwood case |
Engineering Lensatic Compass
with Leather Case $50

This Stanley London® beautiful solid brass reproduction of an Engineering Lensatic Compass is available in both polished and antique brass finish. The compass card has the standard 0 - 360 degree scale, as well as the 0 - 64 Mil scale (one yard at 1,000 yards). The cardinal points are luminous for easy viewing in the dark, and the compass features a standard glass bezel with two lines at 45 degree angles. The bezel also rotates with detents so you can change the heading reference a known amount without looking at the compass. The front sight has a magnifier to simultaneously view the magnetic heading when taking a sight. Folding the sight down operates a needle lift mechanism to protect the compass bearing. On the side of the compass is a needle freeze mechanism to hold a reading. The lid of the compass has a glass window with a line etched into the glass for use as a rear sight. The outside of the compass has a brass guard to protect the glass. The compass measures 2 1/8 inches (5.4 cm) in diameter, 7/8 inches (2.2 cm) thick, and weighs 4.9 ounces (139 grams). The back of the compass can be custom engraved with a maximum of 16 words. A handcrafted 100 percent leather case is included with the compass. The polished engineering lensatic compass comes with a brown leather case, and the antique finished compass comes with a leather case with a distressed antique brown finish. Either case has a rear belt loop for easy carrying of the compass.
Either the polished or antique finish solid brass Engineering Lensatic Compass with leather case sells for only $50.
A similar Military Lensatic Compass is also available.
We also offer two optional hardwood storage boxes for displaying and protecting your compass. The Large Hardwood Box with Inlaid Compass Rose is available for an additional $32.95. Each compass rose is unique and will have slight variations since they will be inlaid using similar hand tools to those used 200 years ago. The Large Plain Hardwood Storage Case sells for $14.95.