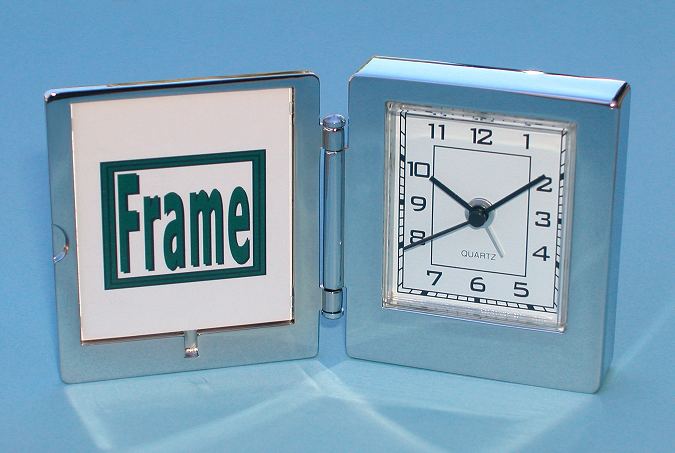 Click on any of the thumbnail images to view a larger image.
Photo Frame Alarm
Clock Folded

Photograph and
Clock Face

Custom Engraved
Front Cover
Back of Clock

Optional Velvet
Travel Pouch
Non-Tarnishing Folding Photo Frame Alarm Clock $32


This beautiful Folding Photo Frame Alarm Clock is perfect for your office desk, or you can bring it along for a travel alarm clock. The case of the clock can be custom engraved for the perfect personalized gift. Just open the hinged lid and insert your favorite 1 3/4 inch (4.4 cm) wide 2 inch (5.1 cm) tall photograph. The clock has a highly accurate quartz movement with second hand and alarm functions. The case is superbly polished to a mirror non-tarnish finish. The back of the clock has controls for setting the time, alarm time, and alarm on / off.
The entire front of the case is blank and can be custom engraved with the recipient's initials or name, personal message, or corporate artwork. Three initials or a monogram cost only $11.20 to professionally engrave and usually will not delay the shipping of your order. Our engraving and shipping status is updated hourly:


There is also an area under the clock that can be engraved with one or two short lines of text.
The Photo Frame Alarm Clock collapses to a very small size of 2 7/16 inches (6.2 cm) by 2 1/8 inches (5.1 cm) and 5/8 inches (1.7 cm) thick when folded and weighs only 6.8 ounces (191 grams).
The Folding Photo Frame Alarm Clock sells for only $32. An optional black velvet draw string travel bag is available for an additional $2.50.
Replacement Button Cell Alkaline Batteries are available for only $1.99 each.
For travelers we also have the Dalvey Stainless Steel Travel Alarm Clocks.