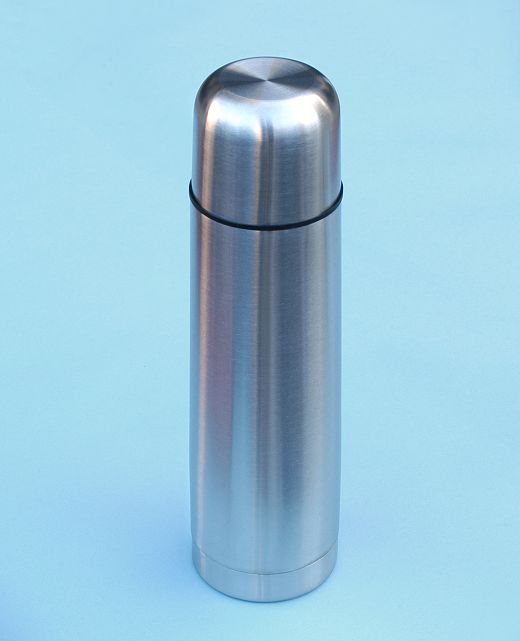 Click on any of the thumbnail images to view a larger image.
Thermal Bottle with
Stopper and Cup

Thermal Bottle with
Leatherette Pouch
Convenient Push-to-
Pour Stopper

Leatherette Pouch with Carrying Strap



Double Wall Stainless Steel
Insulated Thermal Bottle
$22.50


This conventional yet sleek thermal bottle is perfect for your morning commute, picnic or road trip. The Thermal Bottle has double wall stainless steel construction with vacuum insulation to keep your hot liquids hot and your cold liquids cold. Its leak-proof design is manufactured for maximum temperature retention for hours and is cool to the touch with hot liquids. The vacuum insulated construction keeps the contents hot for up to 12 hours, or cold for up to 24 hours. The compact stainless steel bottles holds up to 12 ounces (355 ml) of your favorite beverage or soup. The convenient push stopper allows you to pour without removing the stopper. The Thermal Bottle features unbreakable stainless steel interior and exterior which will never tarnish. An insulated stainless steel cup also doubles as the cap. The light and compact design allows the thermal bottle to fit in your briefcase or bag.
The Thermal Bottle can be custom engraved with the recipient's initials or name for the perfect personalized gift. The stainless steel Thermal Bottle can be engraved with a personalized message of up to twelve words. Three initials or a monogram cost only $11.20 to professionally engrave and usually will not delay the shipping of your order. Our engraving and shipping status is updated hourly:



The Thermal Bottle measures 10 inches long (25.4 cm) and 2 1/2 inches (6.4 cm) in diameter at the base, and weighs 12 ounces (340 grams). The Thermal Bottle comes complete with a zippered leatherette case with carrying strap and sells for only $22.50.
We also carry three models of collapsible cups and 11 models of flasks.