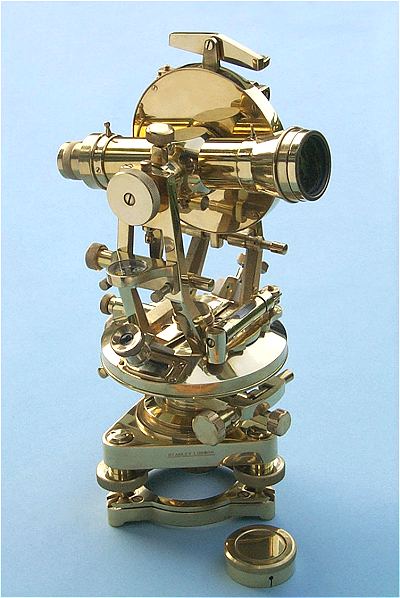 Click on any of the thumbnail images to view a larger image.
Theodolite Shown
with 12-inch Scale

Opposite Side

Detail of Telescope
and Compass
Detail of Level
and Dual Elevation
Vernier Readouts

Detail of Telescope
and Focusing Knob

Detail of Vernier
Azimuth Readout
Detail of Azimuth
Readout Magnifier

Detail of Azimuth
Axis Spirit Level

Detail of Base
and Leveling Feet
Detail of Tripod
and Spirit Level
with Cap Installed

Detail of Tripod
with Cap Removed

Theodolite
on Tripod
Theodolite
on Tripod

Hardwood Case
for Theodolite

Detail of
Box Joint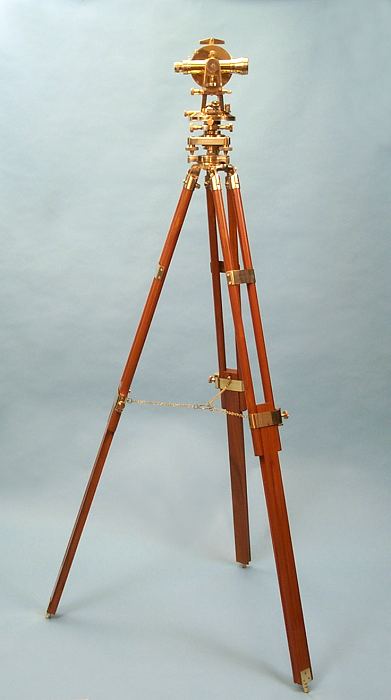 Stanley London Brass Theodolite
with Teak Tripod and
Hardwood Case
$2,375


We are proud to offer this beautiful detailed and functional and calibrated solid brass reproduction of a precision theodolite. Theodolites are still used today for ultra high precision optical alignment and measurement. The theodolite comes with a beautiful hardwood case and a teak and brass surveying tripod. There is a spirit level and three adjustable legs for fine leveling. The azimuth and elevation axes can be read on a vernier scale with the aid of built-in magnifiers. Both axes have slow motion controls and the telescope can plunge and reverse to reduce bearing errors. The azimuth axis has a second spirit level mounted on the telescope with a mirror to assist in leveling. The telescope utilizes precision optics and has a brass lens cover. A magnetic compass is mounted on the azimuth axis. The solid brass theodolite measures 13 1/2 inches (34.3 cm) tall, and weighs 16.4 pounds (7.45 kg). The azimuth scale is 5 1/4 inches (13.3 cm) in diameter and the elevation scale is 4 3/4 inches (12.1 cm) in diameter. The theodolite's 22-power non-inverting telescope has two focusing adjustments; one for the precision reticule focus and another for focusing the target. The telescope measures 8 inches (20.3 cm) long. The teak tripod contains a second round spirit level and the height is adjustable to a maximum height of 5 feet, 9 1/2 inches (177 cm) with a maximum eye height of 5 1/2 feet (168 cm). The theodolite mount uses large 3 1/4 inch (8.25 cm) diameter course thread. The theodolite and tripod weigh 30 pounds (13.6 kg). A beautiful solid hardwood case is included to store and carry the theodolite. The case has an internal lock and the case measures 16 1/2 inches (41.9 cm) long, 8 3/4 inches (22.2 cm) deep, 7 1/4 inches (18.4 cm) tall, and weighs 8 pounds (3.6 kg). The case has storage for accessories and includes a plumb. This theodolite is fully functional, and certified accurate for surveying.
The polished brass Theodolite, hardwood case, and teak tripod sells for $2,375.